Despite the fact that more than one million tourists flock to the beaches, boutique hotels and clubs of every summer, Bodrum (Bodrum in ancient times),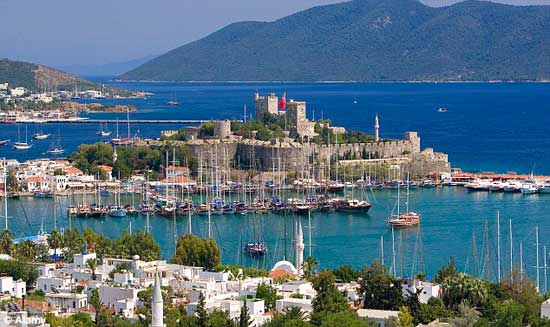 he never loses his temper. More than any other Turkish coastal resort, has an enigmatic elegance diakatechei.To the great castle of the city, glittering marina with full louloudiakai the coating alleys. Even in the most hectic days of summer, you can still find small corners of calm in the city and particularly in peripheral coastal villages.

Previously, it was a simple fishing village, and old remember even when everything was in a different location or non-existent world.

All this began to change after when one of the inmates took the prison. Writer Cevat Sakir Kabaağaçlı (aka Fisherman of Halicarnassus) exiled to Bodrum drowsiness in 1925, and quickly loved this place. After his time, proceeded to turn a generation of Turkish intellectuals, writers and artists to the charm of Bodrum in the mid-1940s and since then there is no turning back.

Since the 1980s, wealthy foreigners started coming, and today's Bodrum is a favorite place for everyone.